'Kittiwake over Strathlethan bay', oil, 20"x 48" ●
Paul has lived in the north-east of Scotland for the past 30 years and the local landscape, particularly the coastline around Stonehaven, has long provided the rich subject matter for his wildlife and landscape paintings, as shown in the picture above. After 20 years working as an engineer he took up painting full time in 2000 and is largely self-taught. Most of Paul's inspiration comes from the familiar Scottish birds which can be seen around his home or at the local seabird colonies. Paul also visits more remote places such as during sailing and walking trips to the Hebrides where he makes field studies and captures images of the more elusive and dramatic species of birds available in the region, as in the painting below.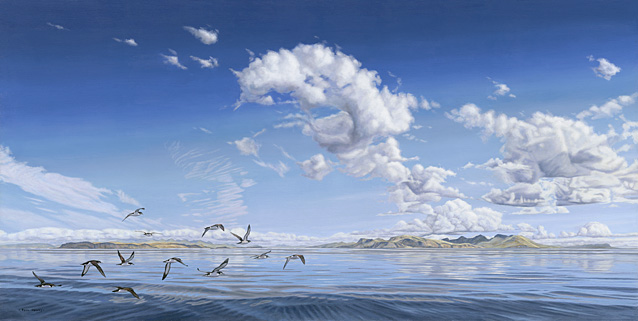 'Shearwaters west of Rum', oil, 24" x 48", also available as a limited edition print

Below are more examples of Paul's recent work


'Lochnagar', watercolour, 14" x 24.5"
'Red Squirrel in Scots Pine', oil, 19" x 12"
'Preening Puffin', oil, 7" x 5.5"
'Fulmars', oil, 12" x 27" also available as a limited edition print